Celebrate Diwali at the Carlton Lounge!
04 Oct, 2017 by Carlton Lounge
The Festival of Lights is almost here, so that means it's time to celebrate! The Carlton Lounge restaurant is hosting a special Diwali event, and we're excited to have you and your family join us in our banquet hall for food, events, and music.
Our Diwali event will be on October 21, Saturday, and is called Diwali: Dinner & Dance. The activities is in the name. We're going to have lots of great food, dancing, live music by the Pancham Melody Band, and a variety of activities perfect for the whole family.
We have an exciting night planned starting at 6:30 PM, which includes a three course meal, henna artist, fireworks display, live DJ performance, giveaway prizes, and more.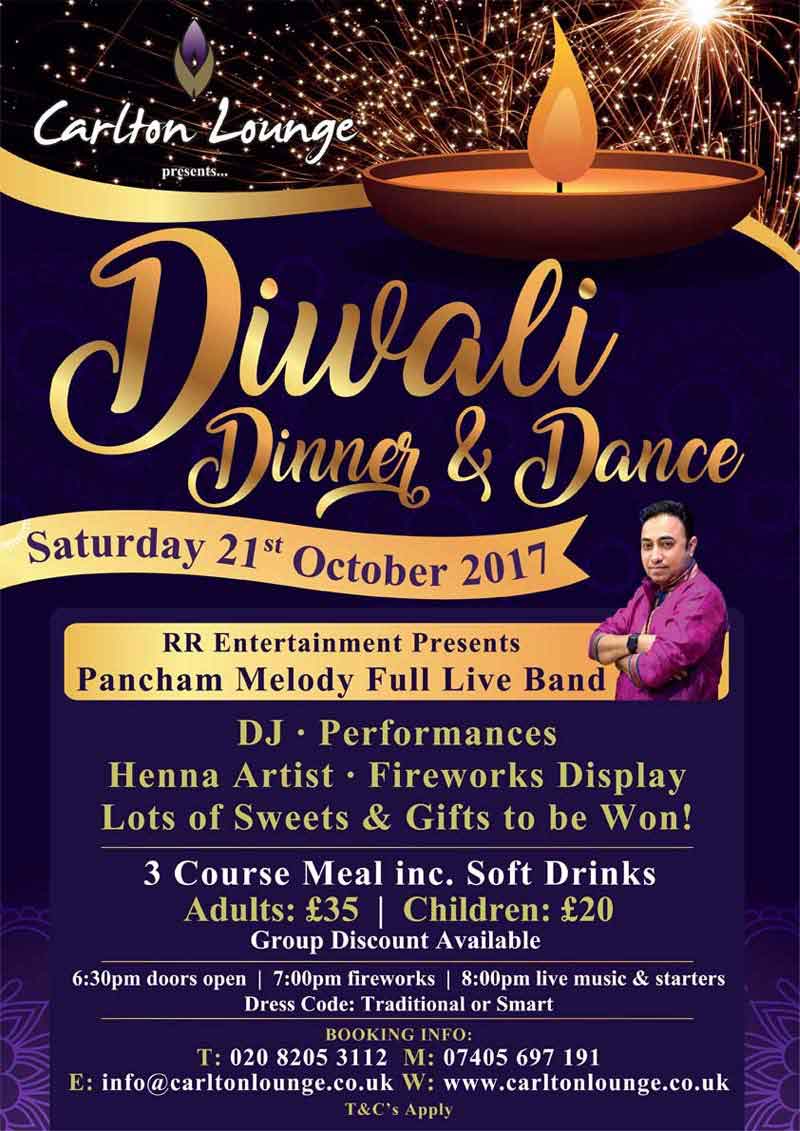 Diwali Dinner & Dance
Date:
October 21, 2017; Saturday
Time:
Doors open 6:30 PM
Fireworks start at 7:00 PM
Live music & starters begins 8:00 PM
Where:
Carlton Lounge
232 - 234, Kingsbury Road
Kingsbury
NW9 0BH
Costs:
£35 Adult, £20 Children
Group discount available
Attire:
Traditional or Smart
Book Now! Space Is Limited
We have limited space, so make sure you save a spot by booking now by calling or emailing us. Group discounts are available.
Join Us!
If you're looking to celebrate Diwali in London, the Dinner & Dance event at the Carlton Lounge on Saturday, 21/10/17 will be the perfect evening for you and your family and friends.