5 Reasons to Choose the Carlton Lounge Restaurant for Your Next Event
You might think you have so many options when it comes to hosting your next major event in London, but the Carlton Lounge. is one of the few that can truly help you create the perfect experience.
Here are five reasons why the Carlton Lounge is one of best places to host a personal, corporate or company event:
5) Space
Our banquet hall. has the capacity to seat up to 150 people guests. In other words, our banquet hall is pretty big. Tables and chairs can be arranged into several configurations so that you can make your dining event very social, or can be laid out in a way where guests' attention are directed to a stage.
While our banquet hall is large, we don't require your event to fill the entire space. We will gladly work with you and set up a more intimate space with partitions to keep your group separate from our other diners. That way, you will be able to plan your rental costs more effectively and efficiently.
Or, if you do have a small party but want to use more of the space, we'll work with you to create a layout that can fit whatever needs you might need. Many previous corporate events request a space allotted for photos or special entertainment.
4) Decor
We keep our banquet hall's decor subtle. While we like to have a classy elegance with our simple but high quality diningware, utensils, and table linens, our banquet hall's decor is simple while being warm and inviting. Beyond a clean sparkle, we want to make sure our banquet hall's visual aesthetics doesn't compete with whatever decorations you want for your event.
Ultimately, we want to help you put your event at the forefront of your guests' pictures and memories.
3) Food
Where our decor takes a step back, our Northern Indian and Chinese cuisine. takes a huge step forward. We have no qualms about putting our food in the spotlight, and we think everyone on your guest list will greatly appreciate it.
A strong part of why people love hosting their event at the Carlton Lounge is because our menu pleases nearly anyone. While we have customer favorites like grilled chicken wings, mutton rolls, fried lamb, and chicken biryani, we also have a huge variety of vegetarian dishes. These include vegetarian starters like samosas, baby corn, and eggplant, as well as main courses like mixed vegetable curries, masalas, and more.
2) Drinks
Whether you're interested in the Carlton Lounge for an upcoming corporate event or for a milestone birthday of a loved one, drinks can make or break the gathering. Our team of mixologists behind the bar will be on hand to give your guests beautifully hand made cocktails that deliciously hit the right spot.
We also have a wide selection of mocktails that are designed to help everyone enjoy the event.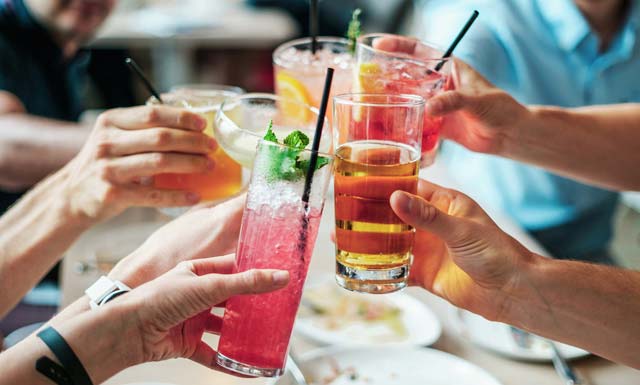 1) Experience
We have had the opportunity to be the venue of choice for countless events and lunch or dinner parties. This has helped our staff build a strong experience in event hosting that will enable us to help you have a fun and problem-free event.
We've also hosted a wide variety of events, from corporate christmas parties to birthdays to stag/hen parties, so we know exactly what an event needs.
Contact Us
Contact Us today to learn how you can have your next event at our banquet hall.